Features
Optimized for Deep Learning
Our machines are designed and built to perform on deep learning applications.
Deep learning applications require fast memory, high interconnectivity and lots of processing power. Our 4-GPU design reaches the hightest currently possible throughput within this form factor.
Well Balanced Components
All of our components have been selected for their energy efficiency, durability and high performance. They are perfectly balanced, so there are no performance bottlenecks. We optimize our hardware in terms of cost per performance, without compromising endurance and reliability.
Tested with Real Life Deep Learning Applications
Our hardware was first designed for our own deep learning application needs and evolved in years of experience in deep learning frameworks and customized PC hardware building.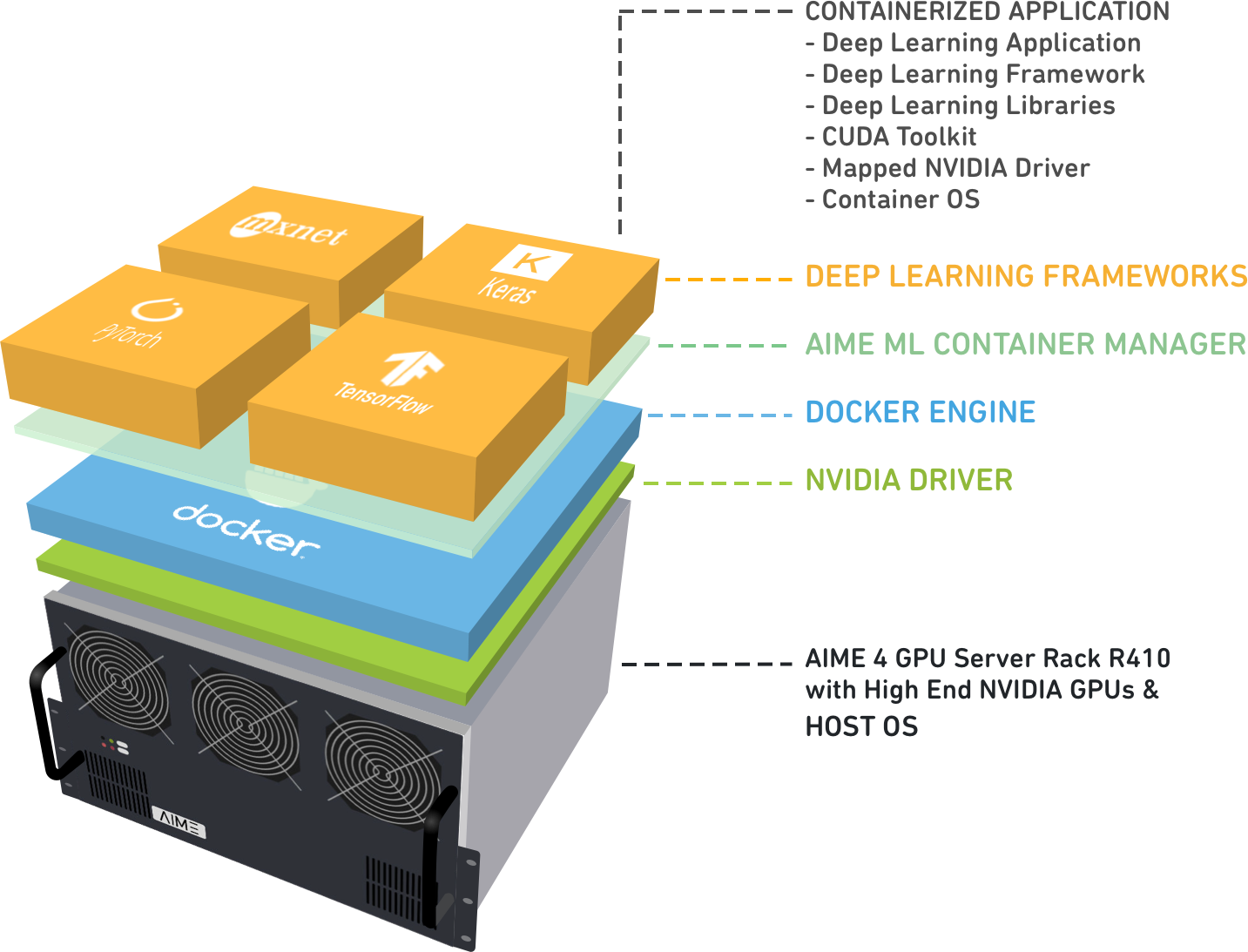 AIME ML Container Manager
Our servers and workstations ship with the AIME ML Container Manager preinstalled, a comprehensive software stack that enables developers to easily setup AI projects and navigate between projects and frameworks.
The necessary libraries and GPU drivers for each deep learning framework are bundled in preconfigured Docker containers and can be initiated with just a single command.
The most common frameworks such as TensorFlow, Keras, PyTorch and Mxnet are pre installed and ready to use.
The AIME ML Container Manager makes life easier for developers so they do not have to worry about framework version installation issues.
Benefits for your Deep Learning Projects
Iterate Faster
To wait unproductively for a result is frustrating. The maximum waiting time acceptable is to have the machine work overnight so you can check the results the next morning and keep on working.
Extend Model Complexity
In case you have to limit your models because of processing time, you for sure don't have enough processing time. Unleash the extra possible accuracy to see where the real limits are.
Train with more data, learn faster what works and what does not with the ability to make full iterations, every time.
Explore Without Regrets
Errors happen as part of the develoment process. They are necessary to learn and refine. It is annoying when every mistake is measurable as a certain amount of money, lost to external service plans. Make yourself free from running against the cost counter and run your own machine without loosing performance!
Protect Your Data
Are you working with sensitive data or data that only is allowed to be processed inside your company? Protect you data by not needing to upload it to cloud service providers, instead process them on your in-house hardware.
Start Out Of The Box
Our machines come with preinstalled Linux OS configured with latest drivers and frameworks like Tensorflow, Keras, PyTorch and MXNet. Just login and start right away with your favourite Deep Learning framework.

Read more: AIME Machine Learning Framework Container Management
Save Money
Cloud services which offer a comparable performance have an hourly price rate of €14 or even more. These costs can quickly grow to hundreds of thousands of Euro per year just for a single instance.
Our hardware is available for a fraction of this cost and offers the same performance as Cloud Services. The TCO is very competitive and can save you service costs in the thousands of Euro every month.
Read more: CLOUD VS. ON-PREMISE - Total Cost of Ownership Analysis
AIME Server & Workstations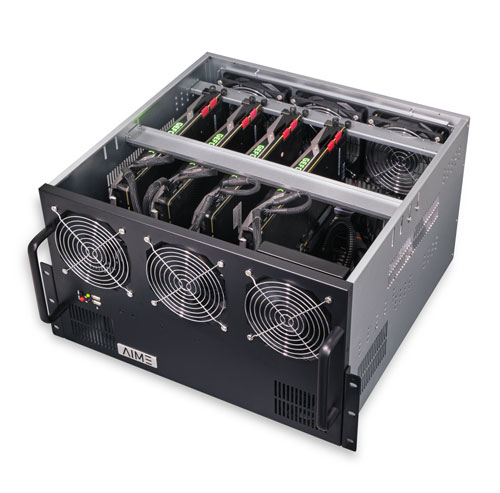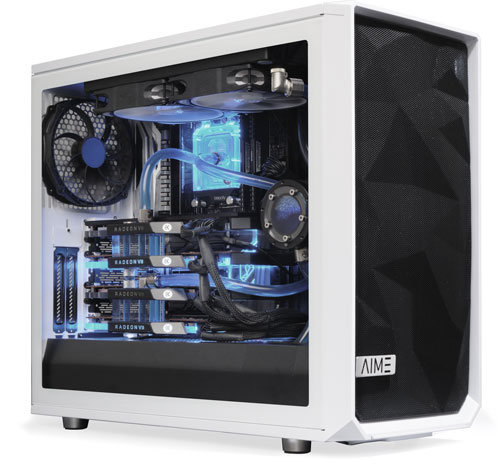 AIME T400 Workstation
The perfect workstation for Deep Learning development. Own the power of 4 GPUs directly under your desk. Its liquid-cooling whisper-silent technology makes it suitable for use in office environments.
GPU: 2-4x NVIDIA RTX 2080TI or


2-3x NVIDIA Titan RTX



CPU: AMD Threadripper 12-32 Cores
RAM: 64 - 128 GB, optional ECC
SSD: 1-4 TB, NVMe (QLC/TLC/MLC)
Are you missing your configuration? We also serve custom made solutions. We have machine learning hardware solutions for:
Development Teams
Inhouse Company Services
Data Centers
Cloud Hosting
Contact us
Call us or send us an email if you have any questions or if you want to purchase one of our systems in advance before our webshop is online.
AIME UG (haftungsbeschränkt)
Bordeauxstr. 7
13127 Berlin
Germany